I usually don't post projects in process because sometimes I get distracted and they don't become completed projects. But I am determined to finish this jacket because I love all the jackets that I see coming down the runway like at
Gautier
and over on
Burdastyle
.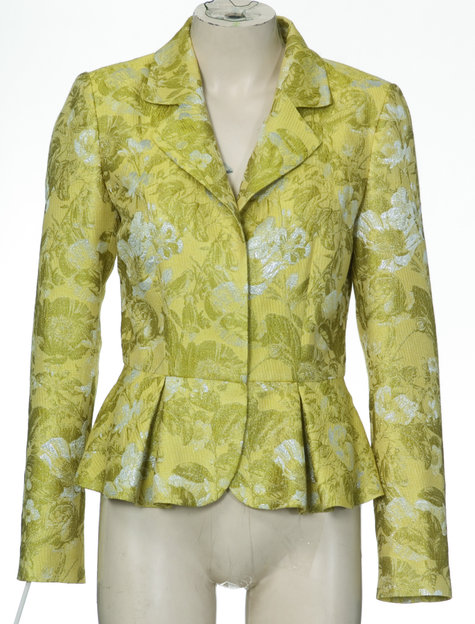 Due to my shape, I rarely find things off the rack that fit me... and when I do they are usually knit... which is not what I want. I want structure.
I am using
Burda 01/2011 Cropped Jacket #127
. I adjusted the pattern using my block that I made last fall, and then cut out a muslin.
The balance looks remarkably good. My shoulders curve forward or have more depth than those on a traditional pattern block, so oftentimes the garment sits to the back.
I am planning on using a lightweight cotton plaid for the first jacket. Not a fabric than can be truly tailored with hair canvas and pad stitching, but more of a casual "just throw it on" jacket. It will sew up fairly quickly and give me a change to check the fit more thoroughly before I move onto more expensive goods.
Since the jacket will be mostly unlined and the seam allowances will be exposed, I thought I would play around with binding some of the seams. I set up my Singer Slant-o-Matic (you got to love that machine just for the name) and put on the binding foot.
At this point, readers, I would like to point out that one should ALWAYS read ALL the instructions FIRST. It will save you a tremendous amount of time. If I would have read everything, I would have cut the bias strip the correct width and been on my way to binding nirvana. Instead I did a trial and error method that took an hour of fussing about.
Here is the Center Back seam with it's binding. Lovely! There is a peplum/back seam that I did not bind. The binding does add some bulk, so for this jacket I am using a zigzag on the seam allowance edges. I may wind up pressing the seam allowance down (toward the peplum) and clean finishing it with a facing... not sure yet. Doing some field designing here. The pattern calls for a lining, but for this jacket I want to keep it light.
Checking the fit this morning. I have added the under collar and stand. I will be applying some fusible interfacing from the edge to the roll line of the under lapel/front. This fabric has NO BODY what so ever, so this will be a rumply, casual jacket when I'm done.